Sugar & SPACE is a multidisciplinary design studio specialized in creating food-related experiences. We believe that by considering not only the food but also the space in which it is consumed, we can create unforgettable multisensory experiences. The studio works with private clients, commercial brands, artistic and educational institutions to conceptualize, experiment, develop and produce products and experiences to increase consumer engagement through multisensory experience design.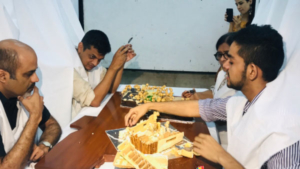 Interaction through Food – Edible Walkthrough. March 2017.
The founder's background in Architecture and International Business paired with his entrepreneurial spirit and managerial experience play a key role in the studio's output. Jashan Sippy created his first edible walkthrough in Mumbai in April 2017 as a ground-breaking way to make a client experience their architectural project – instead of a traditional 3-D digital walkthrough of the spaces, the consumers were made to taste each space which had been assigned unique flavors, textures and mouthfeel as deemed appropriate to explain the quality of architectural space.